Już wkrótce nowa odsłona katalogu PANDA PREMIUM Beauty, a tymczasem postanowiliśmy uchylić rąbka tajemnicy 🤩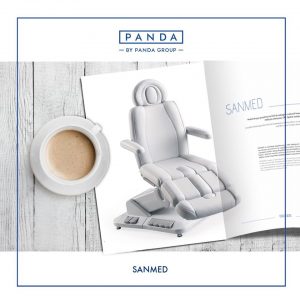 SANMED to typoszereg specjalistycznych foteli medycznych, które zapewniają komfortowe warunki pracy personelowi oraz wygodę dla pacjenta. Ten produkowany na zamówienie fotel wyposażony został w szereg udogodnień oraz opcji dodatkowych, które ułatwiają zachowanie higieny i sterylnych warunków podczas wykonywanych zabiegów. Wszechstronne możliwości regulacji czynią z niego niezbędny element wyposażenia profesjonalnego gabinetu.
SANMED to wielofunkcyjny specjalistyczny fotel:
✅ do gabinetów medycyny estetycznej i SPA,
✅ do salonów kosmetycznych,
☑️ spełniający restrykcyjne normy medyczne.